I'm really liking them all of a sudden....
Fact:
The first mention of the cupcake can be traced as far back as 1796, when a recipe notation of "a cake to be baked in small cups" was written in American Cookery by Amelia Simms. The earliest documentation of the term cupcake was in "Seventy-five Receipts for Pastry, Cakes, and Sweetmeats" in 1828 in Eliza Leslie's Receipts cookbook.
I love this one because it looks like my Chloe!
Martha has recipes and step by step directions!
Easter inspired me to include this one!
FACT:
Cup cakes were often baked in individual pottery cups and they took their names from the cups they were baked in.
A single rose mini cake........Wilton website
Fact:
Cupcake is given to any cake the size of a teacup.
You can order online.
Another beautiful bakery!
A teascape cupcake!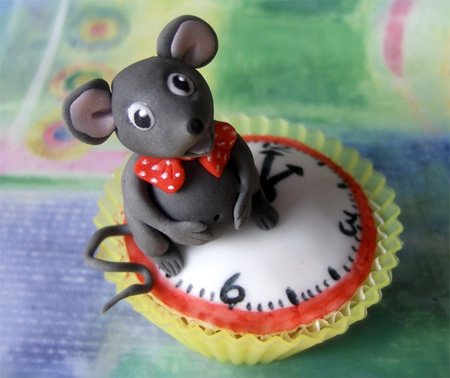 Foodnetwork.com
This is Magnolia's Recipe for Vanilla Cupcakes
Everyone is always asking us which is the most popular cupcake at the bakery. Most people are surprised that it is what we call the Vanilla Vanilla -- the vanilla cupcake with the vanilla icing (and the most popular color for the icing is pink). If you would like to make a layer cake instead of cupcakes, divide the batter between 2 (9-inch) round cake pans and bake the layers for 30 to 40 minutes.
Ingredients
Cupcakes:
1 1/2 cups self-rising flour
1 1/4 cups all-purpose flour
1 cup (2 sticks) unsalted butter, softened
2 cups sugar
4 large eggs, at room temperature
1 cup milk
1 teaspoon vanilla extract
Icing:
Vanilla Buttercream, recipe follows
Directions
Preheat oven to 350 degrees F.
Line 2 (1/2 cup-12 capacity) muffin tins with cupcake papers.
In a small bowl, combine the flours. Set aside.
In a large bowl, on the medium speed of an electric mixer, cream the butter until smooth. Add the sugar gradually and beat until fluffy, about 3 minutes. Add the eggs, 1 at a time, beating well after each addition. Add the dry ingredients in 3 parts, alternating with the milk and vanilla. With each addition, beat until the ingredients are incorporated but do not over beat. Using a rubber spatula, scrape down the batter in the bowl to make sure the ingredients are well blended. Carefully spoon the batter into the cupcake liners, filling them about 3/4 full. Bake for 20 to 25 minutes, or until a cake tester inserted into the center of the cupcake comes out clean.
Cool the cupcakes in tins for 15 minutes. Remove from the tins and cool completely on a wire rack before icing.
Vanilla Buttercream:
The vanilla buttercream we use at the bakery is technically not a buttercream but actually an old-fashioned confectioners' sugar and butter frosting. Be sure to beat the icing for the amount of time called for in the recipe to achieve the desired creamy texture.
1 cup (2 sticks) unsalted butter, softened
6 to 8 cups confectioners' sugar
1/2 cup milk
2 teaspoons vanilla extract
Place the butter in a large mixing bowl. Add 4 cups of the sugar and then the milk and vanilla. On the medium speed of an electric mixer, beat until smooth and creamy, about 3 to 5 minutes. Gradually add the remaining sugar, 1 cup at a time, beating well after each addition (about 2 minutes), until the icing is thick enough to be of good spreading consistency. You may not need to add all of the sugar. If desired, add a few drops of food coloring and mix thoroughly. (Use and store the icing at room temperature because icing will set if chilled.) Icing can be stored in an airtight container for up to 3 days.
Yield: enough for 2 dozen cupcakes or 1 (9-inch) layer cake
This is a delicious cake! Hope you love it!
I thought you might like to visit a blogger who has been blogging about cupcakes since 2004

.
Hope you had fun looking at just a few cupcakes to inspire you to bake a treat for your family.